Are you sure that the firefighting equipment that protects you is flawless? Are you fully prepared? Have you reviewed everything thoroughly?
For many years, we have been carrying out our day-to-day activities in the nickname of "Inabou" as "professionals of firefighting equipment" by focusing on Inagi city.
Buildings & Condos/Apartments (we can easily handle from a small house up to a large-size building with more than 100 households)
We have an extensive experience of handling many commercial facilities, medical care facilities, nursing homes, factories and schools!
We are recommended by the Fire Department and receive direct requests from the manufacturers. We provide the most effective, "quick, friendly and secure" services, which are unique to Inabou.

Even for the new customers, we provide consultation by thinking from the customer's point of view. So, please feel free to contact "Inabou" if you need any assistance for firefighting equipment.
We are available 24 hours a day, 365 days a year to ensure the safety and security of all!

Information on handling of new products.
・Lumica light (JPG)
・Firefighting flower (JPG)
・Solar hippo (JPG)/(PDF)
Please contact us directly for your order.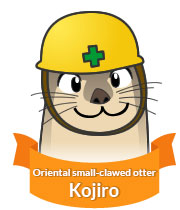 In Inagi city, this is the only "disaster prevention warehouse", etc.We are presenting the <certified> disaster prevention material, equipment and accessories that we provide!
Notification
2011/10/21

Added description of handling of new products

2011/09/01

1st September, i.e. today is the "Disaster Prevention Day". Check and confirm the evacuation places and emergency supplies once again as a preparation for disasters that can happen at any time.

2011/07/13

Published the website. Please feel free to contact "Inabou" for all your concerns regarding firefighting equipment. We are open to take your calls 24 hours a day, 365 days a year!